Games & Products
Products
Instruments and Add-ons
Drum Strike Zone Template
The Strike-zone template marks the six key spots on your snare drum, that the pros use to make a wide range of essential drum sounds.
Head Scratcher Snare Drum
View a demo and explanation of Wes Crawford's HEAD SCRATCHER snare drum.
Games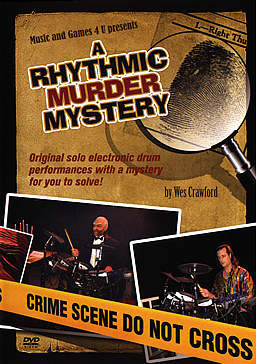 A Rhythmic Murder Mystery DVD
Are you sharp enough to unravel a murder mystery with musical clues? Recover a missing note stolen during the murder of Phineas Bodie by answering questions about timing, rhythm and meter. You'll hear the clues in dramatic solos combining drumset and electronics. Preview clips and more ...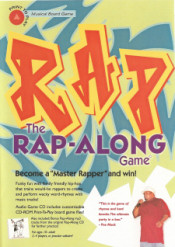 Rap Along CD and printable game
Test your wits by keeping the beat in this funky word-rhyming board game. Your goal is to rise from "Homeboy" to "Master Rapper" by making rhymes with a given word -- in time to the music. Your career heats up as you advance through the funky sound tracks -- which get a little longer and faster as you go. Buy a Demo Tape, Clothes, Gold, and a Car with your game money to become a Master Rapper and win. Try it...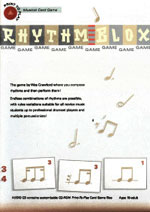 Rhythm Blox CD and printable game
Choose from your secret hand of notes and rests. Your goal is to build one measure of rhythm and play it 8 times to a steady beat. Your points build up as you play. But the real payoff is how quickly you learn to build your own rhythm compositions.
Rhythm Blox is the only card game that builds real rhythmic agility and composition skills. Try it...