Rap-Along: this groove needs YOU -- make up rhymes to these funky tracks
Create original raps to a funky rhythm
"Rap-Along" helps rap artists, songwriters, drama students, comedians, poets, and word-game fans sharpen their skills with words. Writer's block hits the street as you think on your feet, making rhymes to the beat.
You become a "Master Rapper" by making up raps with a given musical track, using a word on a Word! card. Rap to move ahead; play to earn game-money and spend it wisely on your career.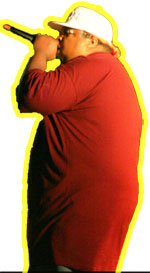 One to four players rise from Homeboy to Master Rapper by advancing along the game board with successful raps.
To start, all you need is a 2-line rhyme like this:
"This is the game of rhymes and hard knocks --
The ultimate party in a box." -- Poe Mack
As you move up, the tracks get longer -- from 4 lines to 8 lines -- AND faster as you get to later tracks.
Try it!
Pick a word
Add music! Make a rhyme and keep the time




Easy: a 2-line rap - rhyme your word in 2 lines




Faster: a 4-line rap (rhyme your word at least once)




OMG!!! an 8-line rap (rhyme your word at least once)



You'll be amazed at the things you say when you have to think fast! As the beat speeds up, you'll build new creative skills as you play.
Order the Rap-Along Game with printable cards and gameboard, and shake up some words with family and friends.
Need inspiration? 6 bonus tracks show you how it's done
Bonus! 1 professional rap +5 practice grooves = 6 Full-length tracks for you to rap along!
Get your inspiration from performer Rapp A. Long's lyrics on "U Can Rap". Then try 5 other tracks in styles from Middle Eastern to Reggae. They're ready for your own words. Listen to clips right here:
This text will be replaced
Buy the Rap-Along Game now - TWO options
1. Buy Pre-Printed

The full boxed and shrink-wrapped version of the game, with free downlaodable music tracks, is now available at The Game Crafter and may be purchased here.
2. Print Your Own
Get the Rap-Along Game as a Print-To-Play game. If you lose part of the game, no problem! Just print another copy of the piece you need. Blank cards and place markers allow you to custom-design your game however you like.

Choose your sound tracks on CD and print your game board, OR download everything for one low price.
Buy Soundtracks on CD: $19.99




CD in vinyl case

44 musical game tracks (.mp3)
Game board (.pdf)
Word! cards (.pdf)
Player place markers (.pdf)
Game rules (.pdf)
Printing instructions (.pdf)
6 full-length Bonus mp3 tracks for further practice

(Shipping and handling for U.S. orders added at checkout
5% sales tax added for Maryland residents
PayPal accepts all mffajor credit cards)

Download
Rap-Along: $9.99




74MB zip file

44 musical game tracks (.mp3)
Game board (.pdf)
Word! cards (.pdf)
Player place markers (.pdf)
Game rules (.pdf)
Printing instructions (.pdf)
6 full-length Bonus mp3 tracks for further practice

(5% sales tax added for Maryland residents
Paypal accepts all major credit cards
Download instructions follow immediately after payment)


Paypal and major credit cards accepted