About Wes Crawford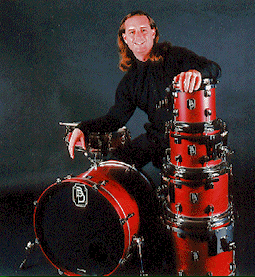 As a professional drummer and educator, Wes Crawford focuses on the fun side of working with music. His approach builds on a playful attitude and a love of music, making the learning process an entertaining experience.
Wes developed these games and recordings from years of experience as an educator, recording artist and performer. He teaches drumset privately and at Goucher College in Baltimore, MD. He also performs in school assemblies with Cindy Rosenberg's Mosaic, which provided the musical instruction and curriculum for the 2000 Maryland Artist/Teacher Institute.
Wes is the director of the
Drumset and Percussion Camp,
a part of the annual Goucher Summer Arts Institute. He originally developed "The Rhythmic Murder Mystery" as an interactive live performance game, engaging students in solving a murder mystery by actively listening for telltale clues in rich improvisations on drumset and electronics. The DVD version is adapted from the successful live one-man-show enjoyed in schools and summer camps for highschool age musicians.
A versatile independent artist on drumset and percussion, he currently performs and records with musicians such as
Wes has also regularly performed and /or recorded with Sound Connection (high energy show band), Aisha Kahlil (of Sweet Honey in the Rock), Eva Cassidy, Al Williams, Mary Ann Redmond Band, Catalyst Events, Zydeco Crayz, Bob Margolis, "Oh Susannah!", Jack's Mission, Sugar Jones, 2008 WAMMIE winners Mystic Warriors, Cantare, Classical and Jazz pianist Jeffrey Chappell, Bay Jazz Project, and Armadillo recording artist Daryl Davis. His other noteworthy performances and recordings include those with the David Bach Consort (2nd place winner in the 1998 BET unsigned band video contest), Hennesy Jazz Search regional winner Jerry Gordon, African Continuum Theatre Company's "Hubert & Charlie", and performances with Milestone recording artist Ron Holloway. Additionally, Wes has also recorded for The History Channel and for PBS.
Wes is currently serving as President of the MD/DE chapter of the Percussive Arts Society and works as a musical consultant for Sustainable Environments for Health and Shelter (SEH+S).
Wes proudly endorses drums by Baltimore Drum, Dream Cymbals, Vic Firth drumsticks, and ProLogix Percussion.